Mad Over Miami was the eighth episode of Airwolf season 1. It first aired on March 24, 1984.
This episode is notable for being directed by David Hemmings, who played Charles Henry Moffett.[1]
Plot
Dominic accepts a hush-hush mission sponsored by refugee Cubans to ransom two political prisoners in exchange for two million dollars. He has been chosen for the flight because the prisoners had worked with him in his younger days and were people he could recognise. But during the exchange: the money is hijacked, the prisoners returned to captivity and a frustrated Dominic returns to Florida minus the ransom money and the prisoners. Things get rapidly more complicated. Dominic runs out of fuel on his way home and force lands. Hawke has to fly through a hurricane to look for him. The Cuban refugees think he has cheated them, and it turns out the hijacker of the money is the leader of a group of rebels bankrolled by Archangel!
Episode summary
(spoiler alert - click on expand to read)
Story locations
Cuba
Somewhere in Florida

residence of Ivan Rivera
cocktail bar

Sanchez's base in the Florida Keys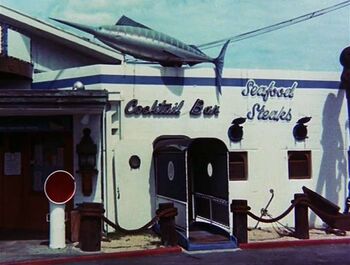 Aircraft seen
Firearms seen
Research notes
Guest stars/Recurring cast
Gallery
References