Tony
Hitman and Bodyguard of Master Criminal Ed Aarons

Tony (Luke Askew) plays one of Ed Aaron's two bodyguards.
First appearance
The Truth About Holly (episode)
Last appearance
n/a. Single appearance.
Portrayed by
Luke Askew
Information
Nickname(s)
*
Aliases
*
Gender
Male
Occupation
Crime syndicate operative
Title
Status
Returned to Mexico with his boss Ed Aarons
Nationality
Probably American

Tony is a character who makes a one-time appearance in the Season 2 episode titled The Truth About Holly (episode).
Biography
Luke Askew's character is not named in the credits but Ed Aarons calls him "Tony" early in the episode at his residence in Taxquetl, Mexico. He is one of two bodyguards who are constantlyby the side of their boss, Aarons. Hawke spots Tony and his partner, Hernando briefly during his raid there to free Holly Matthews.
After Holly has been brought to the United States, Aarons sends Tony and Hernando on her trail. They find Everett, Dominic's mechanic, at Van Nuys. Everett says he has never seen her but Tony grabs Everett and tells him that she has an uncle named Santini. Tony gives Everett a message for Holly. He is to tell her that if she comes back voluntarily, all will be forgiven, otherwise people could get hurt.
Everett goes to the film set where Santini Air is doing a stunt flying gig to tell Dominic. There he spots Tony and Hernando again and points them out to Dominic and Hawke. They give chase buy the two hitmen run off and make their escape in a car.
Later Tony and Hernando accompany Ed Aarons to meet up with Hawke and Dominic. Aarons tells Hawke and Dominic that he doesn't want Holly. All he wants is his coded accounts book which Holly had taken when she fled Mexico. Tony and Hernando had found the accounts book in the Santini Air trailer at the film set the day Hawke and Dominic saw them there. Now that he has the book, he is returning to Mexico and wishes to be left alone and be free of Holly.
Gallery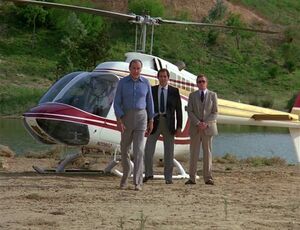 Portrayed By
Tony is played by Luke Askew[1]
References
Ad blocker interference detected!
Wikia is a free-to-use site that makes money from advertising. We have a modified experience for viewers using ad blockers

Wikia is not accessible if you've made further modifications. Remove the custom ad blocker rule(s) and the page will load as expected.